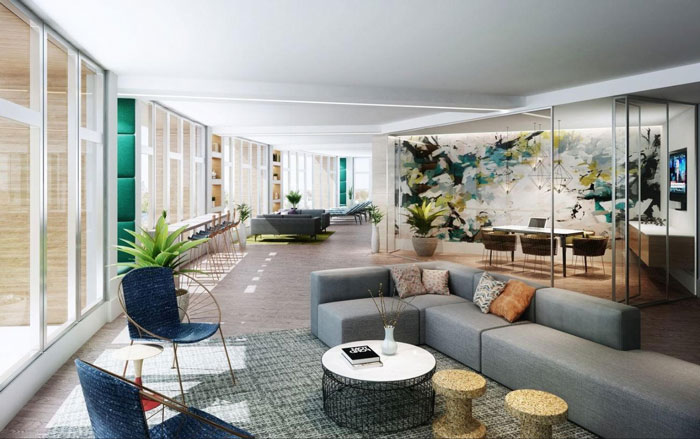 Bending urban sophistication, academic influence, and forward-thinking businesses, Brighton's identity has always been tricky to pin down into neat categories. With plenty of Green Line stops, a bustling shopping district, and strong local roots, Brighton blends together many of Boston's best qualities in its neighborhood mosaic. Unsurprisingly, that results in some of the city's best options for luxury apartment buildings.
Here are Five of Our Favorite Luxury Apartment Buildings in Brighton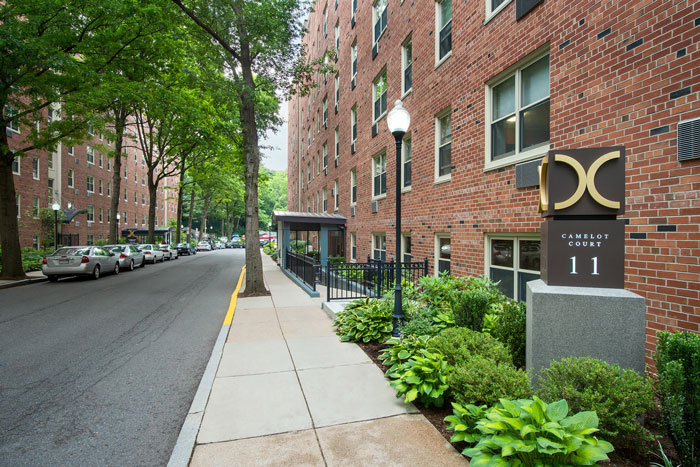 Tree-lined paths and a classic brownstone aesthetic welcome you to Camelot Court, whose promise of luxurious living combined with Brighton's cozy, close to everything vibe is more than kept. With public transportation, Harvard Business and Medical Schools, Northeastern Law School, Boston College and University, and St. Elizabeth's all easily accessible from your back door, there's a lot to love about living here.
Of course, that can be said for a number of Brighton apartments. But few — if any — can hold a candle to Camelot Court's amenities, or its sense of community. Custom maple cabinetry compliments the energy-efficient stainless steel appliances. Open floor plans and spacious closets let you breathe freely, and its cozy clubroom sports a complimentary coffee and tea cafe with free wi-fi: perfect for meeting with friends, or making new ones. With everything so close, you'll probably never need to drive: but with an electric car charging station, and onsite car rental and sharing programs, you can get anywhere you want, anytime you need with minimal hassle.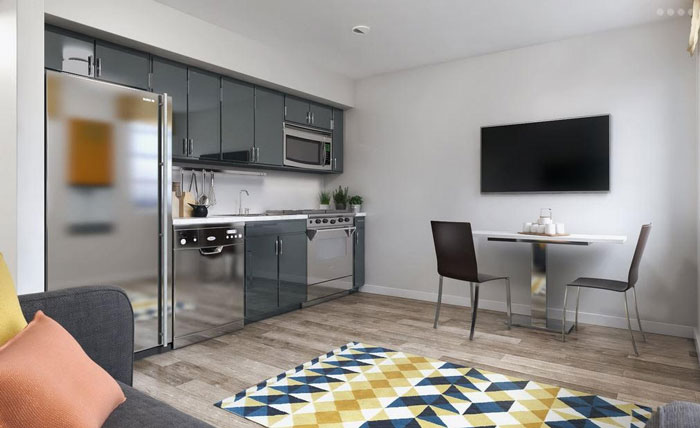 Some experts predict that Brighton, and the area around Commonwealth Avenue in particular, is Boston's next hip destination spot. An "it neighborhood," if you will. Tucked away on a hill overlooking Commonwealth Ave., Nova Brighton provides effortless access to all the benefits of this blossoming scene without being engulfed by it.
The aesthetic is chic and modern, an effortless elegance that never tries too hard. Sophisticated stonework and rich wood grain make even as simple an act as retrieving your mail an exercise in refined living. A private clubhouse, controlled access gated elevator, and amenities like package receiving and an on-site fitness center — complete with free weights — deliver an experience that lives up to Nova Brighton's magnificent hilltop views.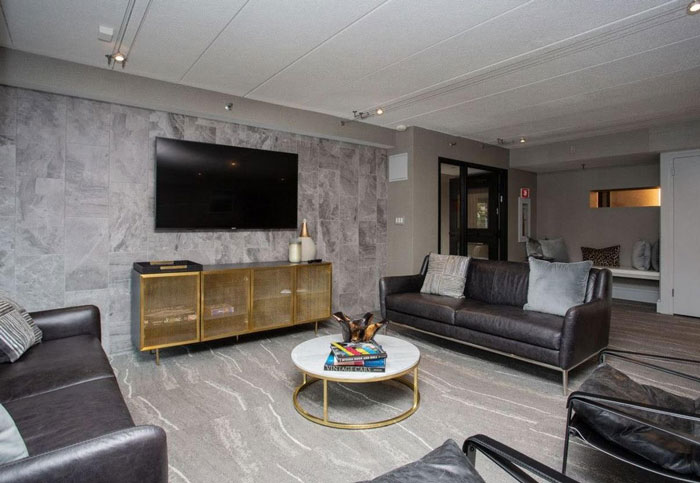 With the Chestnut Hill Reservoir Trail just across Commonwealth Avenue, Reservoir Towers brings a tangible urban sophistication to Brighton.Like its neighbors, it benefits from a great location, with easy access to Route 128 and the Mass Pike, Fenway Park, Longwood Medical Area, and great local pubs, wine bars, and restaurants. But the Reservoir Towers distinguish themselves with a thousand little touches, adding up to a big difference. From a resort-style outdoor pool to the hardwood flooring in its fitness center, the attention to detail really sets this luxury apartment building apart from its peers.
The apartments at Reservoir Towers are cat and dog friendly, with garage and other on-site parking. Laundry, storage space are on-site, as are maintenance, management, and security personnel. With seriously competitive prices and short-term leases available, Reservoir Towers is a decidedly renter-friendly luxury apartment building with something for everyone. Even if you've never rented a luxury apartment before, Reservoir Towers is worth a look.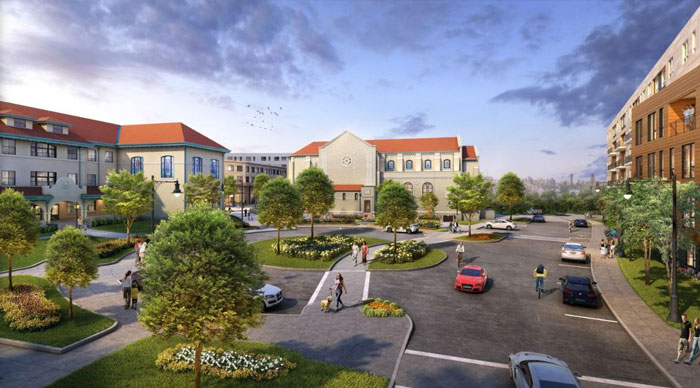 Boston is all about blending the historic and the modern to create something new: and the Overlook at Saint Gabriel's takes this philosophy to an entirely new level. Combining artfully repurposed historical buildings with modern design and ample open spaces, the result is a truly one of a kind hilltop community. Overlooking Brighton, this incredibly unique property marries the convenience of Brighton with literally unmatched architectural style, creating a luxury apartment building like no other.
Located in Brighton Center, the Overlook is just minutes from Fenway Park, right down the street from the Green Line, and centrally located between Boston University, Boston College and Harvard University in Cambridge. All the restaurants, bars, and shopping of Brighton Center is right outside the door, but the layout and design of the property grant it a secluded, exclusive vibe.
The heart of the Overlook is the masterfully transformed St. Gabriel's church. The beautiful cathedral, along with its historic monastery grounds, have been updated, renovated, and complemented by modern buildings. The end result, set to open in Spring of 2020, is an apartment community that is — quite literally — unlike anything else you'll find in Boston. Or anywhere else, for that matter.The architecture is simply unlike anything else on the market: gorgeous stained glass, terrazzo floors, high vaulted ceilings, and so on. It really showcases a design philosophy that's rarely seen in luxury apartments. Combine this unorthodox flair with features like stainless steel appliances, kitchen islands, quartz counter-tops, custom-designed cabinets, spacious walk-in closets, twin vanities — plus all the amenities you'd expect among truly world-class luxury apartment buildings — and you've got a recipe for something truly special.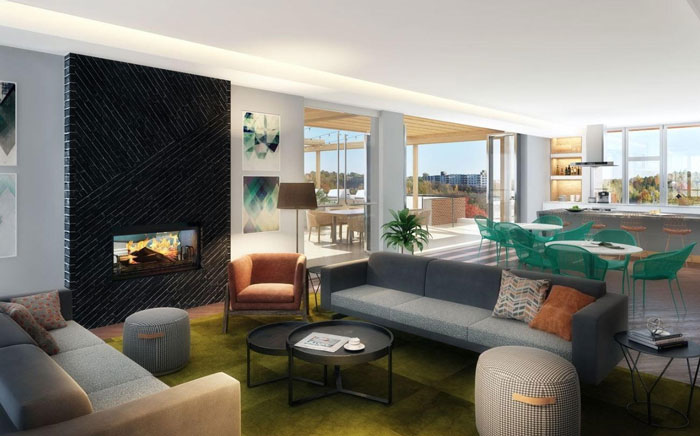 Overlooking the Charles River, Brighton's Radius Apartments bring a decidedly modern flair to Western Avenue. Tucked away on the banks of the Charles, Radius sits comfortably between Allston, Cambridge, Watertown, and the rest of Boston. Multiple green spaces, including the Charles River Reservation, are right outside your door, as are myriad cafes, shops, restaurants: even Boston Landing, the practice facilities of both the Bruins and Celtics.
Radius' amenities provide a compelling blend of luxury and practicality. A penthouse solarium provides grills, a demonstration kitchen, and sky lounge for get-togethers, while the rooftop fitness center lets you stay in shape with a view of the city, while the mindfulness meditation room provides a great place to center yourself after a hectic day. With an on-site maker space, bike storage and electric car charging, pet spa, and Amazon Hub package lockers, Radius' suite of amenities is expertly tailored to fit the modern Bostonian lifestyle.
Luxury Apartment Buildings – At the Heart of it All
When it comes to luxury apartments, Brighton might not be the first neighborhood that people think of. And that's a crying shame. Like every Boston neighborhood, Brighton brings its own unique charms to the table, providing an experience that's genuinely unique to the area. With ever-increasing amounts of new construction occurring across the Hub, some luxury apartments struggle to stand out among the crowd.
These gems in Brighton don't have that problem.
So what are you waiting for? Contact us today, and let's get you into the dream apartment you never knew you couldn't live without.